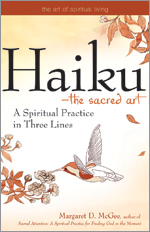 Takes the mystery and intimidation out of beginning to write haiku as a spiritual practice. Provides helpful hints and step-by-step exercises to broaden and deepen both your haiku artistry and your appreciation of haiku as part of your spiritual life.
Margaret D. McGee
Paperback

5½ x 8½, 192 pp
| 978-1-59473-269-0
Have a "haiku moment"—when your mind stops and your heart moves.
"Writing haiku offers the chance to honor, hold, and fully experience a fleeting moment that takes you out of yourself, a moment that hints at the deeper unity that lies beneath the surface of things."
—from Chapter One
In this encouraging guide for both beginning and experienced haiku writers, Margaret D. McGee shows how writing haiku can be a consciously spiritual practice for seekers of any faith tradition or no tradition.
Drawing from her experience as a spiritual retreat leader and published haiku writer, McGee takes the mystery and intimidation out of beginning to write haiku. For those already on their way, she provides helpful hints and exercises to broaden and deepen both your haiku artistry and your appreciation of haiku as part of your spiritual life. With humor and encouragement, she offers step-by-step exercises for both individuals and writing groups, and shows how haiku can help you:
Pay attention to the world around you to connect with sacred moments
Overcome fear and self-doubt to access your innate creativity
Explore and use haiku together with spiritual practices in your own faith tradition
Make haiku a spiritual part of your daily routine
"Reflect[s] a diversity of voices and the obvious pleasure of the writers engaging in the art."
—Modern Haiku
"With exceptional skill and elegance, Margaret guides us into the practice of haiku-making. As we awaken to the mystery of the moment, something splashes in our heart and we experience the Glow of Presence."
—Sheikh Jamal Rahman, Interfaith Community Church, Seattle; author, Getting to the Heart of Interfaith: The Eye-Opening, Hope-Filled Friendship of a Pastor, a Rabbi and a Sheikh
"A superb exploration of this poetic form for both beginners and experts alike.... Rich.... If we would attend seriously to the ideas set forth here, we would be better prepared to hear that 'still small voiceÂ' that seeks to transform us (and all creation) from the inside out."
—Englewood Review of Books
"Captures the heart essence of a moment and the feelings it evokes by paying attention to small things and honoring the sacredness of everyday life."
—Lucy Wynkoop, OSB, coauthor, Lectio Divina: Contemplative Awakening and Awareness
"Demonstrates the many uses of this art form and the riches that it can bring to our appreciation of the world around us."
—Spirituality & Practice
"Encourag[es] readers to use haiku ... to express themselves.... A top pick."
—Midwest Book Review
"Insightful and informative…. Enhances our awareness of our daily lives and the spirit that surrounds us."
—Stanford M. Forrester, editor, bottle rockets; author, the toddler's chant
"Simple, personal and profound.... A convincing call into this ancient way of honoring moments as Holy."
—Nancy Barrett Chickerneo, PhD, author, Woman Spirit Awakening in Nature: Growing into the Fullness of Who You Are; director, SPA Sisters
"Opens an important door wide ... instills a desire and ability to write what is essential and understand how it entwines with our individual spiritual practices…. It became irresistible not to try my hand at it."
—Sheila Bender, author, A New Theology: Turning to Poetry in a Time of Grief
"Inviting and accessible ... beautifully breaks open the art of paying close attention to the world through the heightened language of poetry."
—Christine Valters Paintner, PhD, author, Wind, Water, Earth, Fire: The Christian Spiritual Practice of Praying with the Elements
"Shows us how we can each enjoy intimacy with the divine in our everyday lives. Partake with Margaret McGee as she partakes of Presence, available to us all by fully paying attention to what is marvelously present. As it is."
—Gary Gach, author, The Complete Idiot's Guide to Buddhism