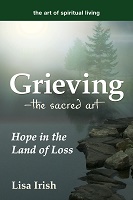 Grieving - The Sacred Art
Lisa Irish
Offers the griever an adult understanding of the emotional world of loss and provides tools to mindfully participate in grief's healing role. Without denying the pain of loss, it offers educational and imaginative insights that deepen the understanding of the process of loss and helps the griever generate more compassion for his or her experience.
Gospel - The Book of John
Thomas Moore
This new translation with commentary strips the Gospels of their theological agendas and reclaims them as a radically new way of imagining human life. It blends scholarship and pastoral guidance in an accurate, accessible translation with profound insights that, free of religious moralism and dogmatism, is beautifully imaginative and inspirational.